Olympic Subsea ASA, headquartered in Fosnavaag, Norway, has awarded Ulstein Verft a firm contract for two offshore wind construction service operation vessels (CSOVs). Deliveries are scheduled for spring and summer 2024 and the contract includes options for two more vessels.
The CSOVs will be built to the Ulstein Design & Solutions SX222 design with a Twin X rear end. With a length of 89.6 meters and a width of 19.2 meters, they offer space for 126 people in 91 cabins.
The vessels are ready for future offshore wind farm requirements and will feature a variable speed diesel-electric propulsion system combined with large battery energy storage systems. They will be prepared for methanol fuel and have room for additional battery capacity for all-electric repowering when the necessary infrastructure is available.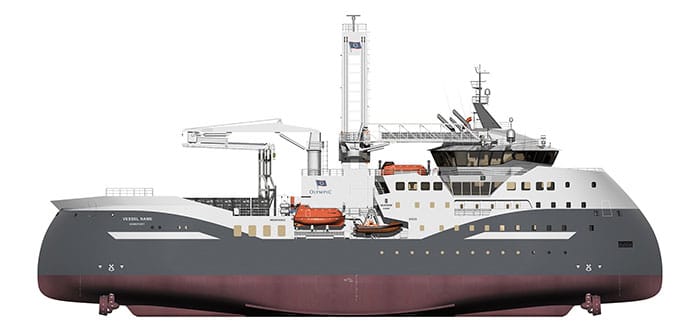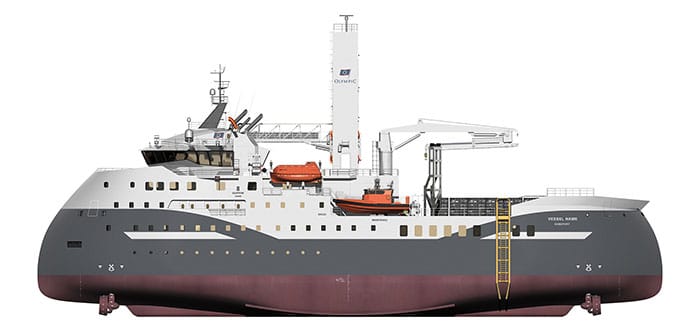 The hull shape and hybrid propulsion system are designed to deliver high operational performance and seakeeping with a significantly reduced environmental footprint.
LONG-TIME CUSTOMER
A major player in the maritime cluster on Norway's north-west coast, Olympic has previously built six ships at Ulstein Verft and was Ulstein Design & Solutions' first customer.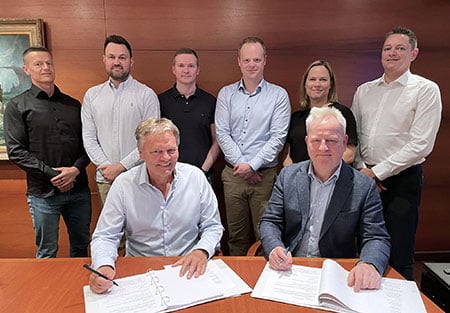 "It will be crucial for us that the ships are delivered on time and of the right quality, and Ulstein Verft is known for that," said Stig Remøy, CEO of Olympic Group. "This enables us to meet our customers' requirements and put the ships into operation at the agreed time. The Twin X rear is an intelligent concept optimized for low energy consumption. During operation, offshore wind service vessels remain positioned at the turbines most of the time and with the main propellers forward and aft, these vessels will reduce energy demands to new levels when on DP."
"We are delighted to be working again with Olympic, a key and innovative player in the Norwegian maritime cluster and a company with whom we have had the pleasure of working on many complex and successful projects for many years," said Cathrine, CEO of Ulstein Group Kristiseter Martin. "In view of the currently challenging economic and political climate, these contracts are the result of pragmatic and good cooperation between the parties, in which both parties have made great efforts to find good and viable solutions."
"We have worked closely with Olympic on the details of this project and are very excited to start the new build project," said Lars Lühr Olsen, Managing Director of Ulstein Verft. "We are very pleased with the trust that Olympic has placed in us and will do our utmost to deliver the ships according to the agreed quality and schedule. The ships are scheduled for delivery in the spring and summer of 2024."
The contracts for the CSOVs are also an important milestone for Ulstein Power & Control AS, which is tasked with supplying an advanced power and automation package, including a large battery supply, for the vessels.