talmon biran's installation in paxos, greece
Talmon Biran's "Hang On" is complex but wonderfully still installation in the historically important ruins of Kampos tis Koris, an old house that now stands roofless and without interior decoration. Its empty shell is a time capsule that tells the island's history and tells its present. A reminder of family history, long-standing possessions, real estate investments, modern materials, machinery and traditional building methods and skills that are losing their place with progress.
Created for the 2022 Paxos Biennale on the Greek island, the concept and design details of "Hang On" are inspired by the traditional building techniques and rituals of Paxos. Israeli artist and architect duo Roy Talmon and Noa Biran use only locally found materials for their installation, which sits on the border between art and architecture and explores the tension between the two contradictory forces of preservation and progression. Examining the relationships between space, human agency and time, the installation explores states of equilibrium that materialize as a weaving network of ropes hanging from the crumbling stone structure to suspend wooden beams in the air.

"Hang On" was created for the Paxos Biennale 2022
all photos by Roy Talmon unless otherwise noted
'hang on': an exploration of balance and preservation
The construction process of the installation itself involved actions and techniques of archaeological excavation, site investigation and architectural preservation, including site clearance, reconstruction and repair, stacking, sorting and marking of objects and parts of buildings found on site. Talmon Biran creates a series of installations within the ruins, using ropes and the remains of the original structure found on site, such as stones, wooden beams and old furniture. The installation "Hang On" explores states of equilibrium between opposing forces: lifted elements and weights, movement vs. stability, and inside and outside. The positioning of these forces in dichotomy demonstrates their definition in relation to the others and raises the question of the possibility of balance: what will stand and what will fall? What should stay and what should change? Which of the opposing forces will prevail?
Within the ruins of Kampos tis Koris is a series of criss-crossing ropes and suspended wooden beams that balance in silence. That Israeli duo tied old wooden beams with ropes to heavy rocks found on site at both ends. The stones are hung on the exterior facades and act as weights to balance the wooden beams in the air amidst the interior. Other stones are connected to large stones on the ground, suggesting an imaginary grid of columns or foundations, while another cairn is found gathered in a straight line, reminiscent of archaeological mounds or ancient rituals for burial or worship.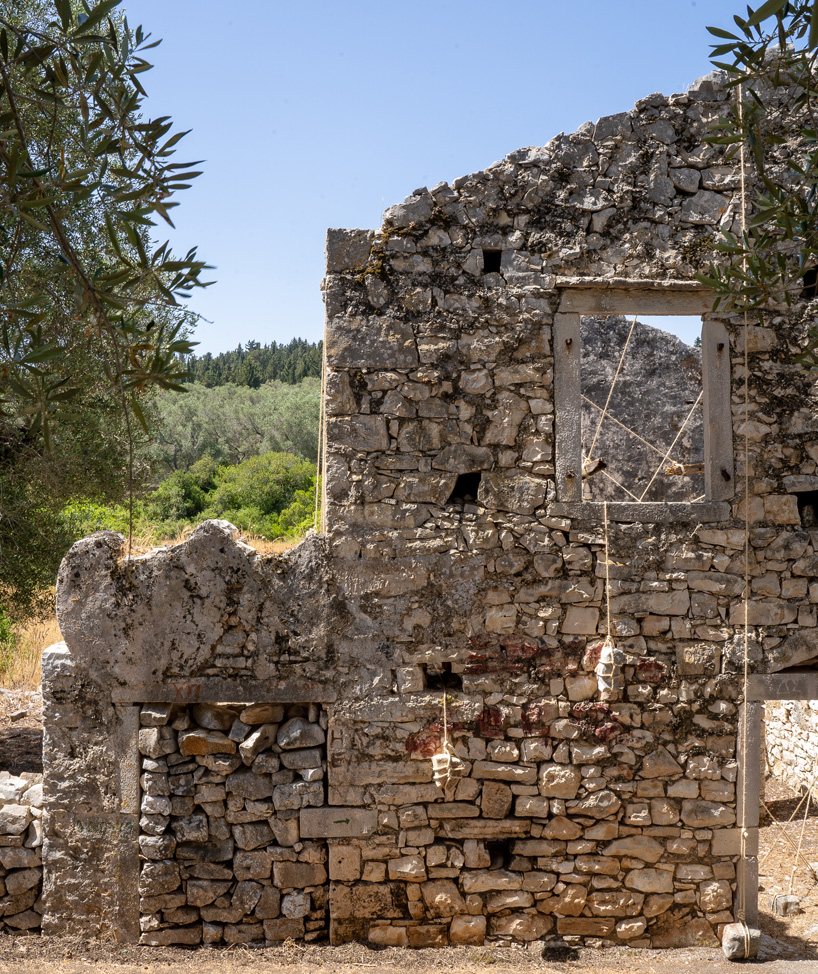 Ancient wooden beams found locally are tied to heavy stones with ropes at both ends
a network of suspended ropes, stones and wooden beams
A recessed niche in the inner wall contains a pile of stones, each tied together with rope, reminiscent of preserved food or supplies lying on a pantry shelf. Each individual stone is numbered in red and marked with the signature of the owning family. This is a common means of declaring ownership of buildings in Paxos, prompting the questions: 'Is property an inventory? Is it transferrable?'
Elsewhere in the installation, a series of wooden frames, dry tree branches and rusty work tools found on site are arranged to lean in a row along the wall. Their difference in shape, height and texture, and the fragile composition they create together, contrasts with the perfectly straight red line marked along them, connecting them. The line serves as a reference plane and is commonly used in civil engineering as a reference line for all building elements. "A line in space and time. Its existence depends on the ability of the elements to assert themselves', notes Talmon Biran.
Furthermore, a weathered frame of a blue-painted chair is filled with stones in a traditional dry-stone construction, a traditional technique typical of Paxos. The stones are held together without the use of mortar and simply by their own weight, through careful selection and positioning of the stones to match in shape and weight. The chair, typically characterized by mobility and lightness, is here solid, heavy and rooted in the ground.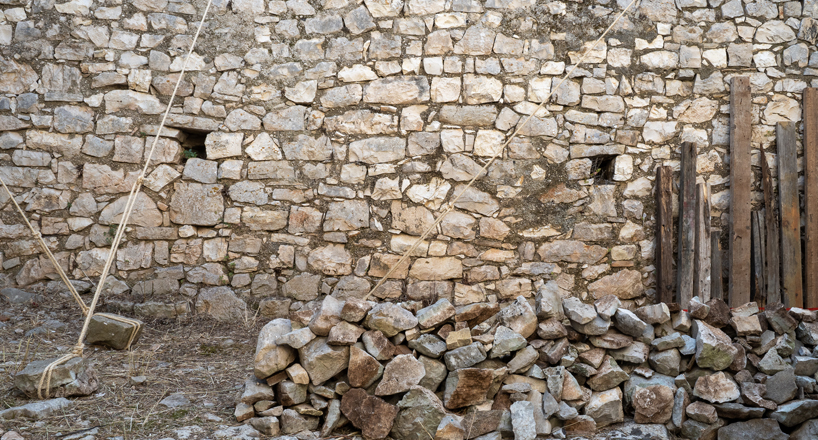 A cairn is gathered in a straight line, resembling archaeological mounds or ancient rituals for burial or worship