Warm welcome to the SciFr book club about Update by Blake Crouch. There are many ways to get involved: read the book, listen to our interview with the author, to join our online common room, or send a voice message at (646) 767-6532 or on the SciFri VoxPop app.
---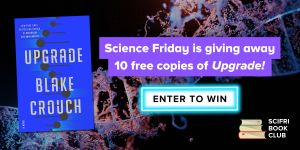 This August, the SciFri Book Club will reflect with Blake Crouch on the science, ethics, and possible future potential of CRISPR-Cas9 gene editing capabilitiesThe science fiction thriller Update. The book, released this summer, follows the aftermath of advanced gene editing technology and challenges us to consider what we be willing to make sacrifices to save humanity – even if it means losing some of your humanity in the process. This work brings together a myriad of scientific topics, including genetic engineering, climate change, science policy and ethics, biology, and more – and we will address these topics in this book club.
With his latest book, Crouch transports us to a world where humanity's only hope for a future may lie in our own evolution – while reminding us that that future may not be as distant as we are once believed. Pick up your copy at your local bookstore or at Bookshop.org.
This book club season begins Monday, August 1st, and you can read along with us! We'll be following this schedule (roughly), but all our readers are welcome to join us at their own pace:
Chapters 1-3 from August 1st to 7th
Chapters 4-6 from August 8th to 14th
Chapters 7-11 from August 15th to 21st
Chapter 12 Epilogue from August 22nd to 28th
Book Club Summary from August 29th to 31st
Plus, Blake Crouch will be stopping by Science Friday on Friday July 15th to talk about his new book! Be sure to listen to the show live from 2:00 p.m. to 4:00 p.m. ET on your local radio station or on our website, or download the episode after we're live wherever you get your podcasts.
There are so many ways to dive in and get involved! You can grab a copy of the book (and support the author and SciFri), read an excerpt Update, join the discussion in our online book club community, sign up for a weekly email newsletter, or attend our upcoming book club meeting. Check out all the details below.
---
Grab your own copy
Science Friday, in partnership with Ballantine Books, is giving away 10 free copies of Update. Our sweepstakes ends Sunday, July 24, 2022 at 11:59 PM ET. Winners will be selected at random and notified by email on Monday 25th July 2022. Enter today to win!
Enter to win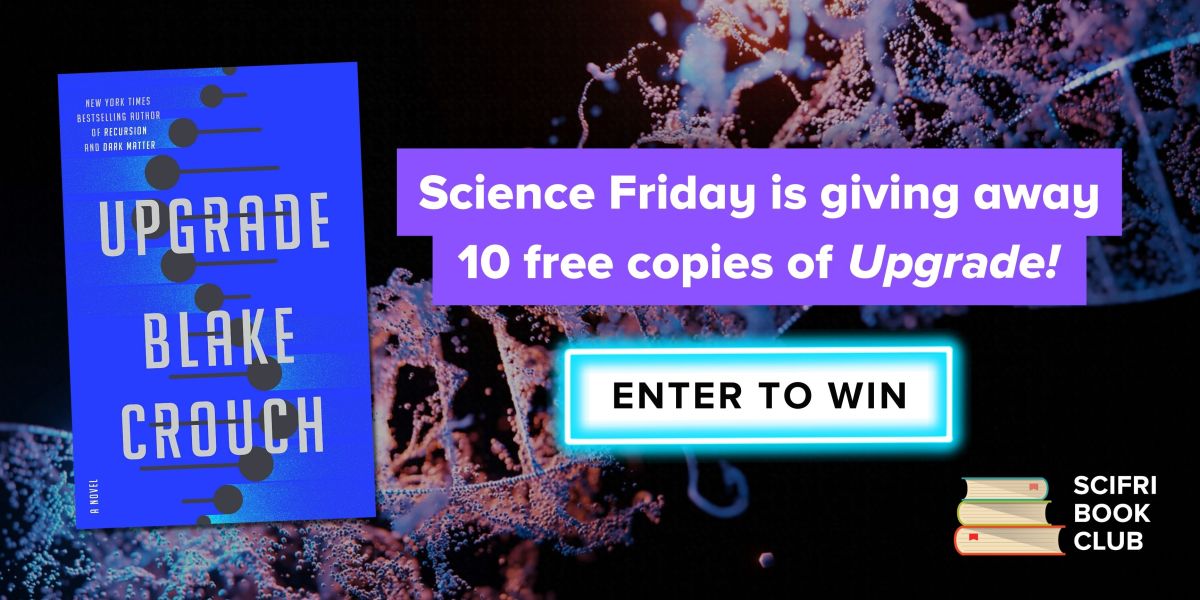 If you would like to purchase a physical copy, we recommend starting with your local bookstore! If you don't have the book in stock, or you'd rather buy it online, you can support Science Friday by buying your copy from us Bookshop.org page.
---
Join our community space
And when you start reading Join us in our online community area: Science Friday Book Club is now on Mighty Networks, a platform for us to collect, read and discuss science books together. We created this community area because you told us you wanted a better way to connect with other SciFri Book Clubbers, and we hope you'll join us there!
join our community
---
Read an excerpt
Not sure if this is the right book for you? Would you like to read an excerpt before committing? We'll cover you.
Ballantine Books, the publisher of Update, SciFri Book Clubbers has offered an excerpt from the book! You can read this example on our website.
Read the excerpt
---
---
Save The Date: Meeting of the SciFri Book Club
Want to meet other SciFri Book Club members, talk about book choices, and find more resources for deeper learning—all without leaving your home? Then you've come to the right place at our community meeting!
Registration for August 29th
This discussion meeting will focus on topics and issues that will be covered in Update. You are welcome to join us regardless of your reading progress – start talking to other science enthusiasts about gene editing and the science behind the book!
---
---
Meet the writer
Diana Montano
About Diana Montano
Diana Montano is Experiences Manager at Science Friday, where she creates live events and partnerships to engage and engage audiences in the world of science.