The beginning of the end begins in just over 48 hours. That's when the second half of the Vince Gilligan & Peter Gould's Bob Odenkirk & Rhea Seehorn-With Better call Saul begins its run as the Breaking Bad spinoff prequel nears its finale. To fuel fan speculation and theories, Gould has a few more things to share about what's to come. Speaking to TV Insider, series co-creator and executive producer Lalos (Tony Dalton) very effective return and more… including a very interesting commentary on the return of Walter White and Jesse Pinkman, but maybe not with Bryan Cranston and AaronPaul than their respective real world counterparts?!
So what about S06E08 "Point and Shoot"? "It's one of the most compelling hours of television I've ever seen in my life," revealed/teased Gould. And to say that Lalos disposed of Howard (Patrick Fabian) ahead of the midseason break is a big reason why it would pretty much get to the point. "What exactly is he doing in your apartment?" asks Gould. "Lalo has clear intentions, let's put it that way."
But the remaining eps will not be entirely serious: "Some episodes have some of the biggest laughs we've ever had on the show," shares Gould.
Walter White/Jesse Pinkman Theory alert: So when asked about Walt & Jesse's return at some point (points?) during the last run, the assumption was that it meant Cranston & Paul were returning. and by the sound of it, they are… but are they the only ones playing Walt & Jesse? "We said you would see Walt and Jesse; I don't know if I definitely said it's going to be Aaron and Bryan," Gould shared. So just a random theory, but could the show go meta and at the end of Gene's life in Nebraska we see a TV or film adaptation of Walter White's life being made? That would be pretty good, and would definitely go with Gould's earlier "biggest laughs" comment (depending on who they cast).
Get ready to look at Breaking Bad differently: Promising there are many more surprises to come ("some of them delightful, some of them scary"), Gould has one big goal in mind before the credits roll. "The hope is that you see those left turns and you also think, 'There is no other way that could have gone.' When we're done, you won't be watching 'Breaking Bad' the same way."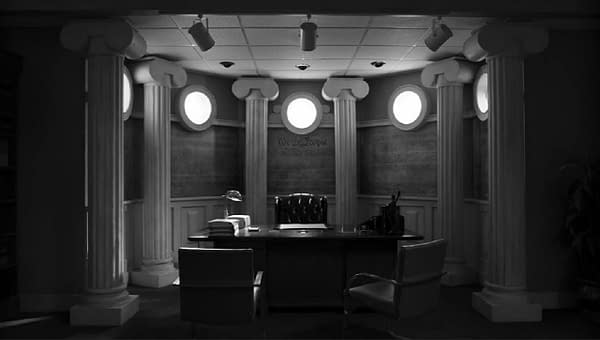 With so many unanswered questions, the following black and white teaser trailer "Places" offers a nostalgic tour of familiar places. But stick around until the end, when things turn color again for an interesting moment that harkens back to the opening of season six. "Let justice be done 'till the heavens fall," Odenkirk's Jimmy McGill, aka Saul Goodman, is heard saying near the end of the clip. As the award-winning series returns for its final set of episodes on Monday, July 11, check out the latest teaser trailer for AMCs here Better call Saul (followed by an overview of some of our earlier theories):
https://www.youtube.com/watch?v=v0386M5oo-0
AMC decided to increase our stress levels with a new teaser this past weekend. Staying with Jimmy's post-Breaking Bad life as "Gene Takovic," this one focuses on the moment when "Gene" was first confronted with those who remember him as "Saul Goodman." Or is it? Because it feels like Gould & Gilligan played fast and loose with the audio we hear and the images we see (and we're pretty sure they did with color/black and white selections of the case is). While the scene is familiar, there are some question marks. A rewrite of the taxi driver? The front of this tax looks dirty, could we see the end of a long journey to… somewhere? And is what we're hearing a flashback to that scene or the conversation going on in "Gene's" head as he slips back into his old "Saul" habits? And then there's the question of who gets out of the cab, and does he have his hat in his hand? Because even if it's just a glimpse? This hat looks a little familiar… Our best guess? What we hear is on "Gene's" mind and he is going somewhere to sort out some matters.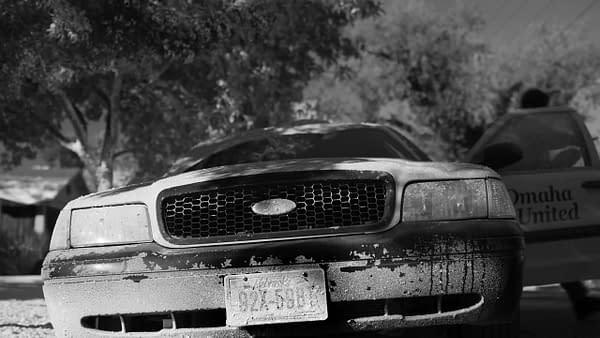 Here's another teaser for AMCs, proving there's no rest for the baddies when it comes to dumping more gas on our brains' dumpster fire of random speculation Better call Saul"You know who you are":
In another teaser, we were shown a synopsis of how things went for "Gene" in the times we've seen, up until the moment he tells the person on the other end of the phone that he's personally will do. fix" done by someone who remembered him as Saul Goodman. Not only was that an interesting ending, but you'll notice in the clip that it's a different cab driver. And then there's the caption that goes with came the teaser: "Things aren't always black and white." Hmmm… Here's a look at that teaser, followed by an overview of our thoughts on the previous teaser and how it could all be connected very soon:
Another teaser focuses on a hands-free phone receiver (and you know who's wearing those, right) on a table with a flashing light. It sounds like we have Jimmy (Odenkirk) doing the voiceovers and saying to everyone he speaks to, "I'm not your friend. And if you get greedy and decide to come back for more? Don't do it." Okay, our ten-second theory on the teaser? While the image is in color, suggesting it's in the current time of the show or maybe near the Breaking Bad handover. But the audio is actually Jimmy-now-"Gene Takovic" set in the black-and-white future. And those words are spoken to "Gene's" new "friend" who knows "Gene" from his Saul days, who might also see something to drive the point home about never blacking out "Gene's" door again. Could this be the start of Saul Goodman 2.0?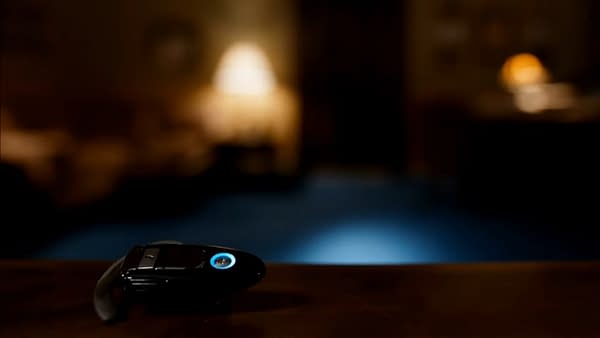 OK, so in that sense? Here's a look at another piece of the puzzle as we get closer to the return of the breaking Bad Prequel spinoff series (and let us know what you think of our theory in the comments below):
And here's a recap of The Superlab teaser: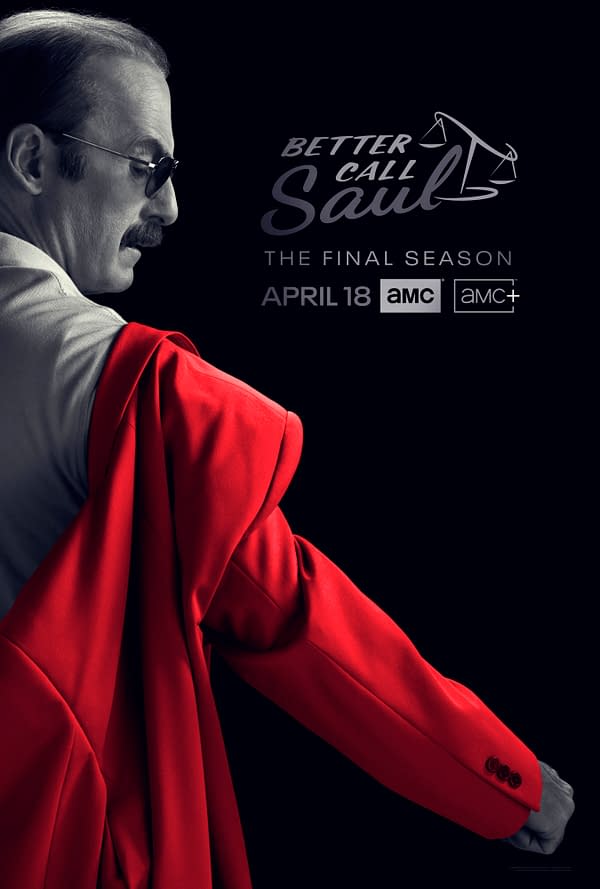 Now, here's a look at the Suit Up teaser, which uses his fashion to give us a tour of the different stages of Jimmy's life – including his "Gene Takovic" days. But the last hanger is empty and swinging. Could that mean it's the end of the road for Jimmy after "Gene"? Or is that related to the previously released key artwork showing "Gene" either donning or doffing that red sport coat (see above)? Could this swinging hanger be the one the coat was resting on? And if that's the case, is it a foreshadowing of "Gene" returning badly to Saul? Just look…
"Well… after all this. A happy ending.": And then we have the following teaser for the last six episodes, with the inside of a house shown in black and white (so we know it's post-breaking Bad) and although no one is present, it is Jimmy/Saul/Gene's voice that we hear saying those words. Could we expect a "happy ending" for the two of them, or do we rather think that Kim will somehow get away with some level of "cleanliness" while Jimmy looks inside from the outside?
Produced by Sony Pictures Television, Better call Saul Stars Bob Odenkirk, Jonathan Banks, Rhea Seehorn, Patrick Fabian, Michael Mando, Tony Dalton and Giancarlo Esposito and is executive produced by Peter Gould, Vince Gilligan, Mark Johnson, Melissa Bernstein, Thomas Schnauz, Gordon Smith, Alison Tatlock, Diane Mercerand Michael Morris.